Day 8
(July 31, 2002)
10:47 am (1,787 miles)
San Clemente, CA
After sleeping in (fortunately, we're close enough to San Diego that it doesn't make much difference), we leave the sleepy burg of San CleNixonIsACrookte and hit the road.
We pass the palmetto trees with faces (outside Stewart's Surf Shop) and stop for a moderately good espresso at "Surfin Donuts" (which, sadly, does not have a surfing donut on its logo).
World's Largest Outdoor Organ
12:06 pm (1,768)
San Diego, CA
In the center of San Diego is a huge park that contains the zoo, a replica of the Globe Theater and a couple of dozen other things. Although the park isn't the World's Largest, it does contain the World's Largest Outdoor Organ.
It's not completely outside (or else the pipes would fill up every time it rained), but sits in a building facing an outdoor amphitheater (and if you sit there during a rainstorm, your pipes will fill up).
Although the "door" to the organ (think giant garage door) is closed, there's a guy inside practicing for this Sunday's organ concert. We peer through the bars on the window to see him (Laura thinks it looks like they imprisoned their organist).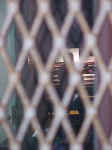 We look around, agree that, although we don't know of any other outdoor organ, if there were such an organ, it would surely be smaller than this one, and we leave.
World's Largest Lemon
12:51 pm
A mere stone's throw from the organ (if the stone were attached to a car) is the World's Largest Lemon. This beauty is located in downtown Lemon Grove, which is a city that blends into San Diego.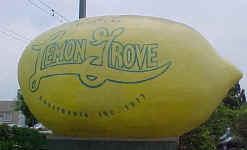 It's right by a bus stop (we wonder: do locals refer to it as the "Lemon Stop"?) and next to the trolley tracks. Behind it is an actual lemon tree with actual lemons. The lemon is about 10 feet long, and is a perfect lemon yellow color. It is a darn good replica of what a lemon on steroids would look like.
1:21 pm (1,789 miles)
San Diego, CA
Astro sighs with relief as we pull into our living quarters for the next four days--the US Grant Hotel in downtown San Diego. (Robert sighs with relief, too, as he has begun walking into walls trying to find the bathroom in the middle of the night in all the different hotel rooms).
Although the plug for one of the lamps has been melted off, the room is lovely and has a high speed DSL connection (!!) and bathroom soap that is shaped like a green leaf. Also, the desk chair is a $700 Aeron mesh chair.
Around 4:00 pm, we walk to the San Diego Convention Center, home of the World's Largest Comic Convention (15,000 registered attendees). The next hour and a half is mostly spent waiting in a line to get into the exhibition hall. The line fills a room the size of two or three gymnasiums and we're willing to bet it's the World's Largest Collection of Geeks Under One Roof.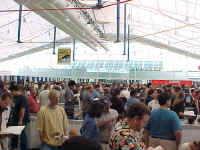 The hall is even larger, and is filled to the walls with exhibitor booths selling everything related (however remotely) to popular culture. Even though this is "Comic Book" convention, there's also Science Fiction stuff, Fantasy Stuff (the Lord of the Rings folks have a huge booth with life size replicas of monsters from the next movie), video game stuff, toys, and more.
Our main interest is comic strips (the ones that run in the newspaper) and the people who draw them. These folks' booths are in marked contrast to the huge electronic displays in the rest of the hall. They mostly have stacks of books laid out, with the artist drooping rather plaintively behind them.
We're helping Michael Jantze (who does "The Norm," which you can see on-line at www.thenorm.com) by staffing his table from time to time. Michael is actually quite a nice person (okay, we're surprised because he's an artist and we expected somebody kind of withdrawn and weird).
We also get a chance to talk with Keith Knight, who does the "K Chronicles" (www.kchronicles.com) -- a comic strip about his life. He says that this show is really for "all the people who got beat up in high school".
There're not many people here yet (which kind of gives you an idea of the size--you can take three gyms full of people and put them in an exhibition hall and end up with a pretty deserted-looking space), but we're assured that come Saturday, it'll be packed with bodies.