Day 1
(Wed, April 28, 2004)
9:18 am
We stagger out to the car (we can't even afford a driver to the airport) and point it at the airport. Robert asks Laura what her mood is.
"Sleepy," she replies.
"Sleepy, and?" he asks, "Excited? Anxious? Elated?"
"Just sleepy."
Because Laura is driving, Robert says his mood is "nervous, very nervous."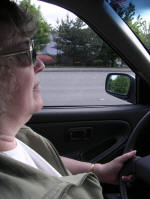 10:31 am
At the airport we discover a handy trick for if you forget to put your Swiss Army knife in your checked luggage, but don't remember it until you're standing in line for the security screening.
Simply place your deadly Swiss Army knife in your backpack, along with your cell phone, MP3 player, noise-canceling headset, 50 feet of cables/connectors and some other miscellaneous electronic devices. Stay cool, and walk calmly through the line.
Ta-da! You still have your Swiss Army knife!
Now Robert is "really, really nervous."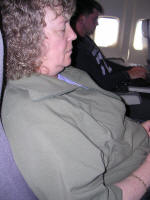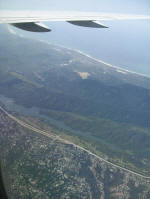 1:29 pm
We are safely on the ground in San Francisco, where it is sunny and hot.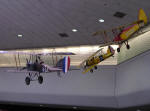 If you ever fly to SF and plan on renting a car, here's a tip: don't bring any luggage with you. To get from baggage claim to the car rental area involves:
| | |
| --- | --- |
| | Walk across the street |
| | Go up two escalators |
| | Walk across another parking lot |
| | Go up another escalator |
| | Catch a train and ride to a different county |
| | Go down some escalators |
We persevere and are deemed worthy enough to rent a car (although by this point, we probably could have walked to our hotel).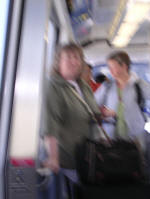 5:10 pm
After a brief nap to recover from jet lag, we sit in our fancy room on the 21st floor at the Argent Hotel. This hotel is the official hotel of the comic book convention (they must be really hard up for business) at a rate that Laura says is less than a San Francisco Motel 6 would charge.
The room faces east with two floor-to-ceiling windows that look out over the Embarcadero and the bay beyond. From here we can see the Museum of Modern Art and Moscone Center (where the convention is). It is one hell of a view. As long as you don't look down.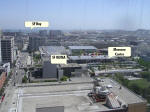 We reflect on how far technology has come since our very first Trip Log, lo these ten years ago (the Dinosaur Dig trip). Back then, we had crude modems, and there were no data ports in the hotel rooms. Sometimes we had to disassemble the phone jacks so that we could connect the modem directly to the phone line. Once, we had to talk a nice lady at a gift shop into letting us use her phone system.
Now, there's a little treasure box on the desk. When you open the treasure box, there's an Ethernet cable providing high-speed Internet access!
Ahh!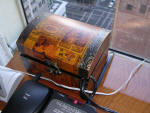 5:56 pm
Robert has brought along an updated version of his trusty GPS software, which includes a handy feature that lets you search for stuff nearby. Robert searches for "cheap restaurants" (actually, we were thinking of calling this the "Cheap Cheap Cheap Tour").
There are 128 cheap restaurants within one mile of the Argent Hotel (the advantages of being centrally located).
Low-tech Laura looks through a magazine provided by the hotel that happens to feature a list of cheap eats, and says "This one looks good!"
So we walk past 127 cheap restaurants to find "A La Turca," which serves Turkish food.
It's about a mile away, and we discover that SF is not particularly flat. In fact, it's got all these hills! Who knew? We walk through several neighborhoods (the art gallery neighborhood, the liquor store neighborhood, the theater neighborhood), and finally arrive at "A La Turca," with our appetites well-honed.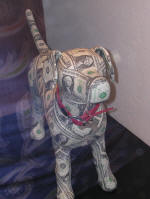 6:44 pm
"A La Turca" is full of Turkish-looking people speaking what sounds like Turkish. We have fun identifying the photos on the wall (we were in Turkey last year). "Hey! There's the Grand Bazaar! There's St. Sofia!"
Last year--Turkey.
This year--Turkish restaurants.
But the food is fabulous (and cheap) and we stuff ourselves with various "kebaps" and salads and fresh bread. For dessert, Robert picks the weirdest sounding dish on the menu, something called "kadayif."
Kadayif turns out to be as weird as it sounds. It's like shredded wheat soaked in honey, with ground-up pistachio nuts.
Laura, who never eats dessert, says "This is definitely on my top ten list of weird foods," as she scarfs down about half of it.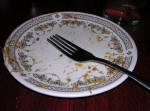 8:00 pm
We walk back to our hotel room, where we settle down for a quiet evening of reading, and watching "Bad Boys II" on the computer DVD player (guess who did which?). We discover that peering out over the Streets of San Francisco at night is also pretty cool.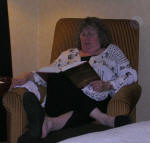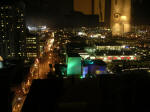 Tomorrow--The Charles Schulz Museum and Screen Savers!
Robert & Laura