Saturday
July 8, 2000
Saturday was mostly a day of getting from one place to another. Laura was getting from Las Vegas to Chicago. Robert was getting from Seattle to Chicago. Laura beat Robert, but Robert had a cooler plane. His plane had little TV sets that showed different channels. He watched the "Shorts" channel and saw some pretty funny short movies (including Rant and Holiday Romance).
We get to our hotel, The Regal Knickerbocker, which is an old hotel right in downtown Chicago. There, we discover that we're just in time for the "Taste of Chicago," which is like the "Bite of Seattle" only more humongous (3.5 million people show up over the course of 10 days).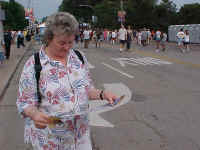 Longitudinal Laura studies a map of Chicago, trying to find the Taste of Chicago (which is right behind her!)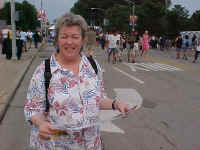 Whaddya mean, it's right behind me?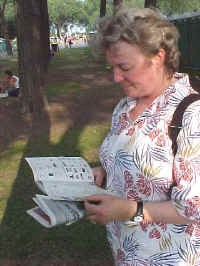 Now Laura's trying to find the Corn Dog booth
After chomping down on some grub, we kick back on the grass and listen to a free concert by Kansas and Yes. It's warm and muggy, but the occasional breeze off the lake makes it nicer (one breeze feels so good it gets a bigger round of applause than Kansas did!).
For a while it looks like it's going to storm (bystander comment: "Boy, they're sure playing up a storm!"), but it never does. Laura takes a few shots of the clouds and the Chicago skyline.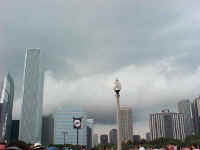 The Chicago skyline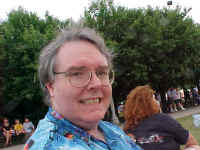 Robert in Chicago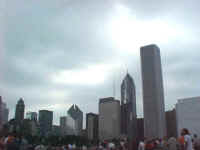 More Chicago skyline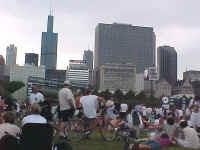 If you look between the people to the left, you can see Yes! Well, maybe not. We never did. But we sure could hear them, and for free, that was pretty darn good!

We caught a cab back to our hotel where we collapsed on the bed and tried to figure out if we were two hours ahead of where we were this morning or two hours behind. We gave up and went to sleep.
---