Day 6 of the "I" states trip
Thursday, July 13, 2000
We staggered awake at lovely Jubilee campground (still in Illinois), with the day already too hot. Fortunately, the SS Creaks and Groans has a pretty good air conditioner, and the campsite had electricity, so we were set. (If there's no electricity, we can run the generator, but the noise of the generator added to the noise of the air conditioner reminds Laura of sleeping on the plane, not to mention the fact that is defeats the purpose of camping in otherwise quiet surroundings.)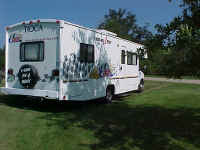 Morning falls on the SS Creaks and Groans
One thing we've noticed during our driving is that just about everybody is busy mowing their lawns. Laura thinks that they're expecting it to rain, so they want their lawns ready. Robert thinks that they're waiting for the corn crop to come in and they need to keep busy. Whatever the reason, there's sure a lot of it going on, even at the campsite.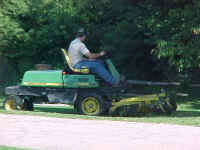 Park people engage in the local pastime of mowing the lawn
And it's finally time to take care of a matter we've been avoiding--emptying the "black water" tank. The RV divides water waste into "black" (icky stuff) and "gray" (sink and shower water). They go into separate tanks, but eventually, you have to empty them. Since we expect to be at a hotel for a couple of days, we figure now's a good time to take care of this.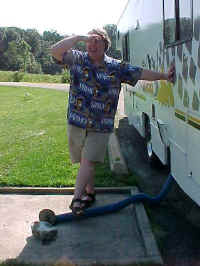 The down side of RV camping--emptying the Icky Tank
It mostly goes without incident (whew!) although Robert gets a little on his feet when he initially removes the cap (Robert is kinda sorry he didn't buy a pair of waders just for this task...). There's a strong incentive to pay attention and do it right.
Lincoln's tomb
Once that nasty chore is out of the way, we leap into the SS Creaks and Groans and get under way. We set a course for Springfield (Illinois) and head through many corn fields and finally arrive at Oak Ridge cemetery. We pause to take a look at Lincoln's Tomb (where Lincoln, his wife, and two of his kids are buried).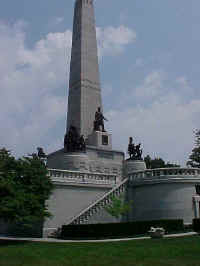 Lincoln's tomb
There's a bust of Abe at ground level with a shiny nose. Apparently, if you rub his nose, you get good luck. We think that it's just as well there's not a statue of Abe at ground level. There's no telling what people would decide to rub for good luck.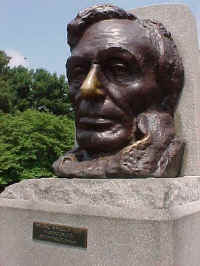 If you rub Abe's nose, it gets even shinier
All the statues of Abe have him looking very, very sad. Seems that even though Mr. Lincoln was a quick wit, he never looked happy or even pleased (at least according to the Statue Artists). Come on, guys, lighten up a little!
Just to make our point, we bought Abe Lincoln Laughing, a collection of "Humorous Anecdotes from Original Souces by and about Abraham Lincoln" (edited by P.M. Zall). Following are some of the stories, which we hope prove that Abe wasn't always (or even mostly) a funeral, depressed character. (Clicking on the link will open a little pop-up window in your browser. If it doesn't, you don't have JavaScript turned on.)
For more humorous stories by and about Abe, see http://www.homestead.com/abelincoln/Humor.html.
A detail from the front of Lincoln's tomb
Roy Bertelli, Master of the Accordion
The cemetery booklet is quick to point out that there are other people besides Lincoln buried at Oakgrove (like Lincoln's law partner!). And our destination is one of those, even if he's not actually buried there. But we'll let our guidebook (Oddball Illinois by Jerome Pohlen) fill you in:
As you enter Oak Ridge Cemetery, you'll see an impressive crypt dedicated to a remarkable man. No, not Abraham Lincoln, Roy Bertelli! Master of the Accordion!

Truth be known, (as of this writing) Bertelli isn't dead, but he's already bought a highly visible plot at the first fork in the road on the way to the Lincoln Tomb. Emblazoned on the front face of his above ground sarcophagus is an engraved photo of a young Roy playing his favorite instrument. A raised headstone with an open accordion marks the other end of the tomb. On sunny days, Roy sits atop his plot, playing away to the amusement of visitors and the annoyance of locals. They've heard enough.

Because Bertelli is a war veteran, he will be buried with full honors at nearby Camp Butler. But lest anyone forget his contribution to the art of the squeezebox, his accordions will be laid to rest at this Oak Ridge Tomb.
How could we resist?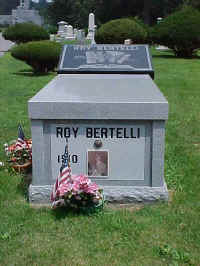 Roy Bertelli, Master of the Accordion!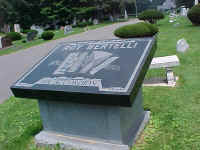 The raised headstone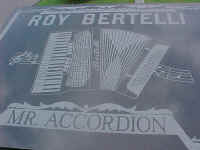 Detail of the headstone (note the maker of this particular accordion)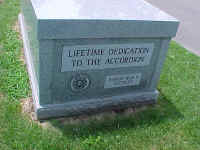 The back of the Accordion Tomb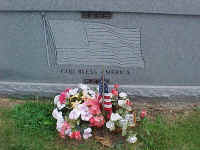 One side of the tomb just says "God Bless America"
Unfortunately, Mr. Bertelli wasn't out playing when we came by (it was probably too hot and humid for him--it certainly was for us!). But there was no indication that he (or his accordions) had gone to their final resting places.
Birthplace of the Corn Dog
But this wasn't the only attraction in Springfield (although it would certainly have been enough to bring us there!). For Springfield is also the birthplace of the Corn Dog! That's right--at a small, unassuming fast food joint called Cozy Drive In, the Corn Dog was brought to its modern pinnacle of perfection.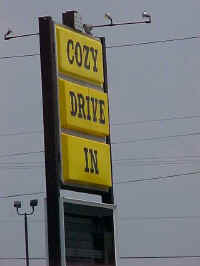 Birthplace of the Corn Dog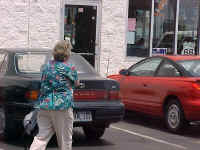 Laura enters the hallowed halls of the Cozy Drive In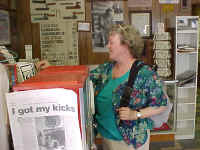 Laura looks over the informational display about Route 66
In addition to being the Birthplace of the Corn Dog, the Cozy Drive In is also an "official" stop on Old Route 66. In Springfield, the old highway is very clearly marked (including segments that only existed for a few years). Apparently, this is a big deal to a fair number of people (we hope it's not just because of the song).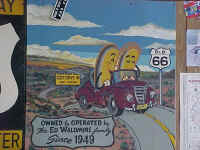 When cultural icons meet: two Corn Dogs go for a drive on Old Highway 66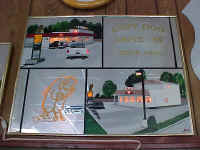 Corn Dogs get cozy
And, just in case you were wondering, the Cozy Drive In is not all "touristy" and cleaned up. The cook smokes, there's pamphlets, signs, and right-wing bumper stickers everywhere. ("What if only Criminals had guns?" says one. We reply, "It'd be a lot easier to figure out who the bad guys were!")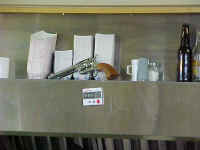 As nearly as we can tell, this is a real gun. Athough we're not sure why the cook needs to be armed, we sure won't complain about the food.
The Corn Dog Story (as copied from a sign in the Cozy Drive-In)

The original Dog-on-a-stick idea was conceived in 1945, when Ed stopped at a roadside cafe in Muskogee, Oklahoma for a bite. What he ordered--and carefully observed the preparation of--was a row of three weiners laid down in a hot iron, covered with a batter, and closed up to cook. The only problem was the lengthy span of time it took. So Ed started brainstorming. He knew if a batter-coated weiner was submersed in hot oil, it would cook rapidly.

So when Ed arrived for duty at the Army Air field in Amarillo, Texas, he began experimenting. He served the prototypes on cocktail forks, in the base mess hall, and they were an instant hit.

Arriving back in Springfield after his discharge, Ed set about solving the problems with his new idea, engineering a rack that would clamp a flat stick. The impaled weiner could then be dipped and coated in batter, then the rack (ultimately designed to clamp three "dogs") set into a fryer--with the dogs submersed just up to the base of the stick.

Ed's original racks featured the ingenious use of clothespins. He successively refined the design, until arriving at the present design.
After Laura finished savoring (and devouring) both corn dogs (which she proclaimed the "best corn dogs I've ever eaten!") we leapt in the SS Creaks and Groans and headed for St. Louis.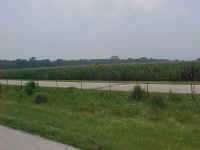 We saw a lot more fields of corn
According to one fellow we met at the Cozy Drive In (somehow he figured out we weren't from around there...), this has been a great year for corn. It was a warm winter, and the drought just recently lifted, so everybody is happy.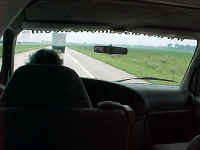 Laura takes over the helm for a while
We finally arrive at the King Henry VII hotel in St. Louis, ready for the Gateway Sci-Fi convention. Parking leads to a few problems, as Robert kinda rubs up against a truck with the 40-zillion ton RV. Fortunately, a quick-witted passerby helps us out, and the truck is undamaged (as is the SS Creaks and Groans). We promptly head for the bar to make sure we stay hydrated.
---