Monday
July 10, 2000
Today, we're scheduled to go pick up our RV! And boy, are we excited!
Of course, it's raining, which it knows how to do in Chicago. No drizzle here, boy. Just plain, straight-ahead rain!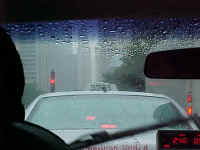 The view out our cab window on our way out of town.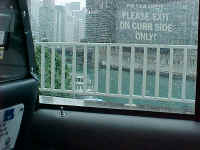 We forgot to mention, there's a river running through the center of town! It's basically like another street, only wetter.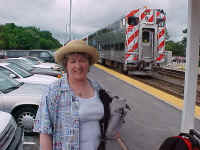 Here's Laura ready to board the train out of Chicago. This is one of the "Laura standing in front of a train" series of pictures.
As might be expected, once we got out to the Middle of Nowhere (Bartlett) (and our ride disappeared over the horizon), we discovered that our RV wasn't quite ready. As in (it turns out), not ready for the next four and a half hours.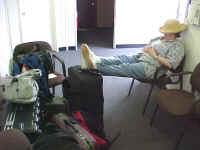 Laura spends an exciting day waiting.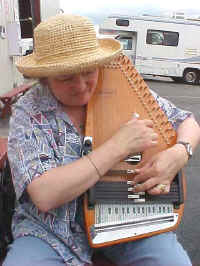 Laura takes an occasional break for autoharping. We wonder what the German tourists who were also waiting for their RV thought about these crazy Americans.
And, when it finally was ready, it wasn't the 24 foot RV we ordered, but a 30 foot RV! Laura was none too thrilled, as she thought 24 feet was too long, and now we had an even longer one! Yipes!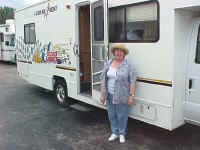 Laura tries to put a brave face on suddenly renting a behemoth.
They did only charge us for a 24 foot RV, so Robert thought we got a heck of a deal!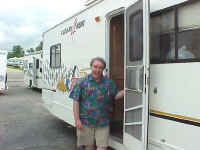 Robert can hardly wait to get this baby up to Mach 2 and see what she can do!
So, after an orientation at the RV store (where we paid extra close attention to the part about emptying the sewage tank--we do not need any hilarious misadventures in this area), we officially launched the "SS Creaks and Groans" (christened for all the noises it makes once it's under way). We headed to a ridiculously nearby campground (well, it seemed ridiculously nearby when we made reservations at 2:00 pm, but since we didn't get our RV until 5:00 pm, it seemed way far away by the time we got there at 7:00 pm). We got all our gear stowed and Robert played with all the switches.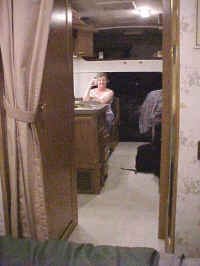 The view from the bedroom forward. This sucker is big!
It's even got dual sinks! (the bananas weren't included--we bought them at a grocery store)
---